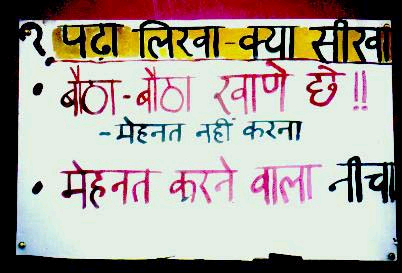 Educational Highlights
School without teachers (almost)
After the Diwali holidays we were in a real fix. Suddenly three teachers left the school for better prospects. But necessity is the mother of creativity. Children who have passed the 5th class took regular classes, assisted by almost anybody – even 8 to 9 year olds. Some enthusiastic children taught the whole year. This gave birth to a Learner Teacher Programme in which interested children will teach and get training. They may get some fee concession if they help the school regularly. It was a real delight to see these classes.
Curriculum Additions
A Health and Hygiene course was added to the curriculum of elder children. They learnt on their own from books prepared by CEHAT. Two workshops were conducted on health issues. One by Jayashree and the othe by Dr. Mone from CEHAT. They also conducted an exam. This programme will be followed next year also. Interested children can take up a detailed Health Worker course, recognised by SNDT, College, Mumbai.
A book on Animal disease and cure prepared by another NGO was also put in course. Some children used this book to treat animals at home. Some were not allowed by parents as they were too young.
5th Board Exam
20 children have taken the 5th Board Exam this year. All of them have passed but…..They were disgusted by the way the exam was being written by teachers on the board. If you listen to what the children have to say you will be shocked. After the exams, most children were of the view that exams should not be held and they realised why tribal children are not going ahead in education.
Astronomy Olympiad
Five children participated in the district Astronomy Olympiad, out of which three came first, second and third. One went to the state level exam.
Prithvi Sammelan or Earth Summit
A Children's Earth Summit, parallel to the World Earth Summit was held for 9 days where children were exposed to the various environmental issues facing the world. The children also came up with solutions to these problems. In the end they wrote stories and poems and made drawings on the various themes that came up in the summit.
This was a very good educational exercise and we are trying to think how we can use this method to learn other topics.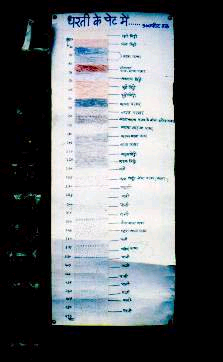 Computers
We have not been able to start a regular computer class due to bad electricity. It is very frustrating. Two children and a teacher have started learning data entry. They are typing in folk stories collected by the school children.
Observations
The children did lots of long term observations of temperature, rainfall, food, changes in trees etc.
From Newspapers
A regular class was devoted to reading the newspapers and learning about current affairs.
The children followed the Iraq – US war with great interest. A lot of discussion took place and the children wrote lengthy reports on the war.
The children also made scrapbooks on topics of their interest by cutting pictures from newspapers.