The Fifth Year………2002 - 2003 of Adharshila Shikshan Kendra
Run by Veer Khajiya Naik Manav Vikas Pratishthan
Located at Village Sakad, P.O. Chatli, near Sendhawa
District Badwani, Madhya Pradesh
India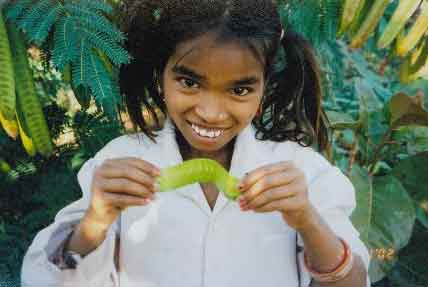 Adharshila is five years old.
1st: Wow! This place has really become green. It's really great to see greenery around and this is the only green patch in the village at this time. If you don't believe me ask any cow or bull in Sakad. They know best which side of Sakad, the grass is green.
We remember the barren piece of land that we had got – colour brown – with not a blade of grass.
Now our dream is to make this place like a Japanese Garden out of a picture book. We made a very small start this year by enthusing the children to make gardens of their own. They have been maintaining them for 2 months now. Some are still at it.
2nd: Wow! Another important aspect is that we have started working closely with two more schools in the adjoining district of Jhabua - the Rani Kajal Jeevanshala in Kakrana and Narmada Jeevanshala in Jalsiundhi. Villagers of Vakner, Jhabua and Badgaon, Badwani are keen to start their own schools in the next session.
We are hopeful that this group of schools will increase.
3rd: Wow! This year is that we had been focusing on motivating children to learn, guided by their interest. The children showed interest in health, medicinal plants, alternative energy, organic farming. This led us to interacting with other organizations working in this field. The idea is to develop an ongoing relationship of Adharshila with these organizations so that children can stay there and learn. Some of these organizations are: Cehat of Pune, Samparkgram, Jhabua, Takli Karyalaya, Dhule and Eklavya, MP.
Lastly the children have grown up. They collected about 25,000 rupees for the school through drama.
Educational Highlights
Excercises
Outdoor Activities
Workshops/Fieldtrips
Administrative Notes