Outdoor Activities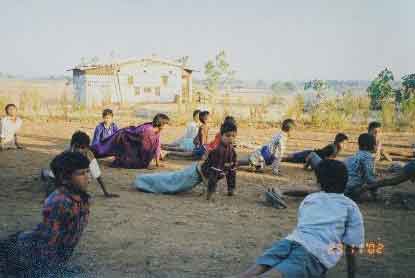 Mask making: The TIE people taught the children to make masks. Suddenly many sculptors were born and we could see mud faces peeping out from the ground wherever one went.
Mud toys are a favourite with the small children and remanants can be found in all places. One boy made mud beads and birds and baked them black.
Organic Farming: The highlight in this was the tomato farm maintained by Sohan Singh. We got indigenous tomato seeds of Latin American, European and Russian countries from Aurovuille, through Jacob Nellithanam, involved in preserving traditional seeds. They were of all shapes and colours. They were eaten yes, and the children went to exhibit them in the local market in Sendhawa one day.
Dhara Singh, Suresh and Bansi opted to learn about various organic farming methods. They have prepared vermicompost successfully. In one plot we tried green manuring and ploughing in of jute stalks.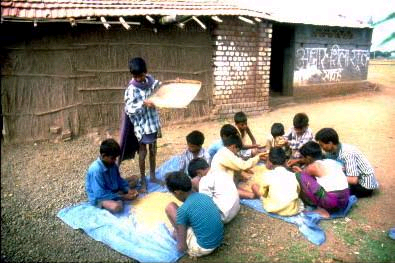 Nursery – Prakash prepared a nursery of flowering plants.
Gardening was another activity that lasted a month. A lot of children developed their gardens and maintained them for almost a month. Some are still at it. Most of them took flowers from the Prakash Nursery.
Drama was of course a major thing. We have talked about it separately.
Watering Trees – this is the first thing the children do when they come to school - especially the two smallest groups.
Group Painting – groups of 8 –10 children made big drawings together on one paperdepicting the Bhagoriya Festival – a very dear festival of children.
Business Plans: Jayaram had heard that in his village people were doing business. The children wanted to know what was business and how does it work. So a very lively discussion took place and every body made a business plan. Of these, two plans were implemented - selling poha and namkeen sev and murmure in the lunch break. The plant nursery also started as a business plan.
Filming: the handycam is a very handy thing. We filmed a lot of insects, children's plays, aadivasi dances, birds, plants, bhangoriya… a lot of little joys. The children got the idea and brought in anything unusual that they saw, for filming. We saw these films on the television set and enjoyed a lot.