Whether you are interested in volunteering at the school as an intern, guest speaker, or guest teacher; helping to raise funds by purchasing students' artwork; or gifting the school with a donation, there are many ways to get involved with Adharshila! Contact Amit and Jayashree if you have any questions.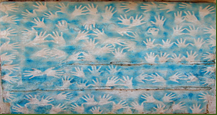 Visitors
• Tanushree, student, D School, Delhi
• Dr. PV Bhalerao, Veterinary doctor, Maharashtra
• Kamlesh, Karyakarta, Damoh, MP, stayed for two months
• SAMTA team of 17 teachers from Andhra Pradesh, stayed with us for three days
• Members of an NGO from Chhindwara
• Shri Sant from CEHAT, Indore
• Shri Gajanand Brahmane, Bijoy, Rajesh and others from AMS
• Dinesh Solanki, Rajendra Sharma and Rajesh Dinge, Motiram Barde--trustees
• Fr. George, St. Julia from Chetana Vikas, Indore
• Rahul and Naharsingh from, Adivasi Sanskriti Bachao Tolee, Indore
• Khemla and Bhuvan, KMCS, Jhabua, MP
• Kemat, Ninga, Kisram and Bhagat from Rani Kajal Shikshan Kendra, Kakrana, Jhabua, MP
• Phoolwanti, teacher, Nai Chetana Shikshan Kendra
• Shri Salunke and Shri Mahajan, scientists from AARTI, Pune
• Shri Keniyalal, Ashagram, Badwani
• Sanjay Paul, businessman, Delhi
• Gosa Painter and adivasi teachers from Maharashtra

Those who helped us financially
We managed the school this year without any institutional grants. Fees, grain and donations from friends kept us afloat, though the first three months were very bad. Next year we will have to increase our fund raising exercise as new schools are also coming up. This we hope to achieve mainly through friends and students art work.
* Ms. Madhulika Aggarwal
* Shri Ramesh Kacholiya
* Mrs.Bagchi
* Ms. Pushpa Nagpal
* Dr. Mrs. Sneh Raj
* Ms. Natasha Badwaar
* Dr. Ms. Amita Baviskar
* Shri Shashank Kela and Ms. Karuna
* Shri Vibhash Sureka through the Krutagyata Nidhi

About Adharshila
Student Initiatives
Student Teachers
Grassroots Educational Movement
Experiential vs. Test-based Schools
2006 Educational Highlights
2007-2008 Annual Report
2008-2009 Annual Report
2009-2010 Annual Report
Projects and Events
Contact Information
© 2006 This page is maintained by Shilpa Kamat for Adharshila.