From authoring a book to learning practical skills such as painting and masonry to listening to talks on human rights and environmental problems, Adharshila students have continued to participate in a number of exciting projects. Here is a list of some of the past year's projects and events...

A book written by children

For the first time, a book of folk stories--kahanin petaro--was published in the local dialect, Bareli. The stories were collected by the children of Adharshila. The illustrations were also done by children. The book was published by Adivasi Reeti Bachao Toli, Indore.

New trades learnt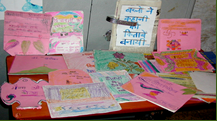 Screen Printing: Two children went to learn screen printing at Ashagram, an NGO in Badwani, for a week. They will go again in the summer for 15 days. We intend to set up a screen printing unit in the school in the next session. This will be used to print books for the school.
Frames: Suresh learnt to make poster frames. He made about 50 frames of posters of Khajiya Naik and Tantiya Bhil, Adivasi freedom fighters. This activity emerged from a student discussion where they felt it was necessary to bring awareness about local history. They decided to popularise the photographs of Adivasi heroes. Short books about their lives are also being written to give with these photo frames. Framing is also an income-generating activity.
Door/house painting: On the job training. Four children painted the hall and window frames of the school. They were involved right from buying the material.
MSExcel: Elder children learnt to use excel. They typed in the names of about 500 library books and 10 school receipt books.
Weaving: the children and one staff member learnt weaving jute bags and belts. We are also trying to sell them.
Choolah workshop
Fuel wood constitutes a major cost in the cafeteria. We called resource persons from AARTI, Pune and NGO to make energy-efficient and smokeless choolahs in the kitchen. Aarti has received the Alternative Nobel Prize for their work. They held a two day workshop in which about 50 students and teachers from three affiliated schools participated.
They learnt about the basics of energy, the need for conservation and also made choolahs. 14 choolahs were made besides the ones that were permanently installed. The permanent choolaha were also made by the senior children who are interested in masonry.
The resource persons were very impressed by the children and have promised to help the school by providing free trainings and making joint programmes. The next step is to install these choolahs in children's homes.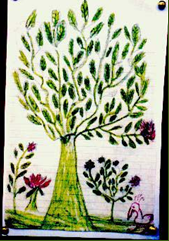 Talks
Human Rights: Shri Gajanand Brahmane, a senior activist of Adivasi Mukti Sangathan, was called to explain the concept of Human Rights and ways of getting it implemented.
Experience of Genetically Modified Seeds, particularly BT cotton: Shri Ashish Mandloi, an activist of the Narmada Bachao Andolan spent a full day talking to the senior students about the problems faced by farmers of Neemar area after the failure of BT cotton crop.
Functions
Like every year many functions were organized in the school. Almost all the items--plays, songs, dresses etc.--were prepared by the teachers. The student teachers played a very prominent role in the functions. They got hands-on training organizing. A calendar of important dates was prepared. Small write ups were written for these dates and the children were told about these in the assembly. Now it's a ritual that the Sports Day Expenses are raised through donations collected by children and teachers from jeeps, trucks, buses, shopkeepers and other friends. It was a great sight--6 to 10-year-olds blocking the road and asking for donations. They collected about 600.
Functions include:
Annual Function
Independence Day
Republic Day
Birth and Death anniversaries of freedom fighters.
Tours
The children went to Pavagarh, an old temple in Gujarat, which is associated with Adivasi folk lore. They also visited Jhabua, their ancestral district.
We are richer by:
A solar panel system for our computer. But it is enough only for school work and only 4-5 children have started learning. The battery backup is just 4 hrs. We need at least two more such systems with 8hr. backups.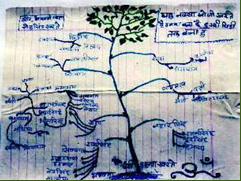 A library building--thanks to SRUTI, we have a library/activity building. It is used for teaching, dance, a reading and computer room, teacher's meetings.
Our new Sports Teacher Ms. Shanta joined us part time. Children enjoyed playing games regularly with her. Shanta is an Adivasi girl with a boy cut who wears only pants and shirts. She is definitely a new role model for the girls.
Thanks to Ms. Shanta, children competed in the district level athletics meet. Gurudas came 2nd in the district in the 400M and 800M races. Deepak came 2nd in long jump, and Sanpat came 3rd in 100 m race.
Youth participated in...
• Activist Training organized by SRUTI.
• Textbook making workshop of NCERT as member of the 9th class Political Science textbook committee.
• Resource Person for teacher training in Chatli High School.
• Staged a play in the A.M.S. protest march against sale of liquor in Badwani.
• Staged a play in the Jan Sunvai on Health Services in Balwadi organised by AMS and CEHAT.
• Workshop to create learning aids and material for primary classes in Adharshila.
• Teacher Training for Social Science and Science organised by Eklavya in Bhopal and Hoshangabad.
• Delivered a lecture organised by HH the Dalai Lama Trust in Delhi.
• SRUTI Mitra Milan at Bokapuram.
• Youth Festival at Anandwan.

About Adharshila
Student Initiatives
Student Teachers
Grassroots Educational Movement
Experiential vs. Test-based Schools
2006 Educational Highlights
2007-2008 Annual Report
2008-2009 Annual Report
2009-2010 Annual Report
Become Involved
Contact Information
© 2006 This page is maintained by Shilpa Kamat for Adharshila.